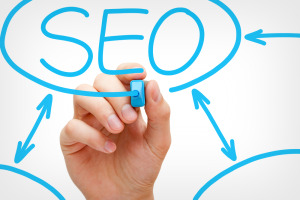 Let's talk Search engine optimization (SEO).
The art of SEO is all about proving to Google that you're as special as you think you are.
I'll start things off by telling a story about a phone call I had with my uncle.  He called me up asking for some help with a few technical aspects of his new startup.  I helped guide him through the technical challenges he was facing, but the conversation suddenly turned to search engine ranking.
He said "Trevor, I just Googled myself and noticed that I didn't appear as the first result in Google.  Did I do something wrong?  What gives?"
I responded "Well, how long ago did you create your website?"
"Yesterday! Shouldn't it be first in Google by now?  I gave it a whole day."
SEO 101
Google became the main player in the search engine business by coming up with an algorithm that worked better than anyone else's.
The secret sauce?  They focused on looking at backlinks.
A backlink is any kind of link that exists on someone else's website that points back to yours. The more links you have pointing back to your site the better.
That was basically what Google started with, however, with that system, it's quite easy to manipulate the rankings for your site by finding ways of getting your site's links out all over the internet.  So over the years Google has had to refine its algorithm to ensure that it always delivers the best quality search results.
The Harsh Realities of Search Engine Rankings
I've been growing my business over the past two years and in that time, organic Google visitors have made up the bulk of my business.  But believe me when I tell you that when I first started, it wasn't that way at all.
Attaining good rankings on Google is a long journey filled with hard work and great content.
There's no substitute for this and no sure-fire shortcuts.
Just like everybody wants a magic pill that will make them skinny, everyone wants a magic process that will land them in the #1 spot on Google for their keywords.
And just like those magic pills, sometimes when you implement the latest "black hat" techniques, there can be unintended side effects.  For example, not too long ago the way to get great rankings for your website was to go around to all the blogs and leave comment spam with a backlink to your site.  This worked like magic, until Google put the hammer down.
Now website owners are crying at the fact that their entire business model is ruined as they're no longer listed in Google.  Overnight, their revenues vanished, all because Google "tweaked" its algorithm.
Don't be like these people.  SEO rules change so quickly that the best approach is to stick to what will always work: creating content that will make someone say "Wow!  That's awesome."
Things Google wants you to do to Succeed
Google has a list of things that they say all business can do to help their SEO rankings.  These are safe tactics that Google has given their blessing to and all businesses should make sure they're taking advantage of.
Social Signals
Google wants you to use social signals to help them make sure you are who you say you are.  So let's talk about how you can set this stuff up.
Create profiles on all the major social media networks for your brand/company.  You can create a Facebook page, a Google+ profile, a LinkedIn Company Page, a Twitter account and a Pintrest business account
I'd recommend you tackle one at a time, but it wouldn't be too bad an idea to do an initial run through all of them to "claim" your business account names before someone else does.
The next step will be to interlink all of these accounts together so they each point to one another.  This can usually be done in the "about" sections of each, where you can specify details about your business.  Sometimes you can list other URLs that relate to your business, or you can just plain old copy/paste the URLs into a description box.
So long as there's some way that one account can be linked via URL to the other accounts, then you're in business!
Citation Directories
There are directories out there where you can list your business that helps extend your company's profile beyond just social networks.
These are known as citation directories and they include sites like:
Craigslist
Reddit
Yelp
Yellow Pages
BBB
Moz actually has a great little blog post that covers how to find these directories for your company.  So instead of re-inventing the wheel, I'd highly recommend you check out their article here.
Relevance is Key
Google loves relevance.
What does that mean exactly?
Well let me start with an example: if I'm running a website dedicated to teaching someone how to program, and I post a link to my programming articles on another website that focuses on selling pet furniture… well… that's not very relevant now is it?
Google is smart, and it knows how to categorize a website.  So it knows that the website that sells pet furniture must be in the Pet niche… and Google also knows that my website is in the technology niche.  So there's absolutely no relevance between those two websites.
A link on the pet furniture website will do very little to help me gain rankings in Google.
However, if I were to get an article published on LifeHacker.com with a backlink to my site, there's a lot more relevance.  So a link on LifeHacker will have a much greater "push" in terms of getting my site ranked higher.
The rule of thumb is, if you feel like the audience of a given website will benefit from knowing your website, then it's probably good relevance and safe to try and get a backlink there.
Syndicate your Content Safely
Another proven strategy for helping your rankings in the search engines is to syndicate your content, but in a safe manner.
I'll start with an example of what NOT to do.
Do NOT post an article on your site, then copy the entire article word for word and publish it in a bunch of other places.  This would be picked up by Google as duplicate content and you would suffer a penalty.
Okay, now that we've gotten that out of the way, here's what you SHOULD do.
The creation process of your content should only be a fraction of the effort you put into getting the word out about your business.  Once you create your content, you should share it in as many places as you can without incurring any penalties.
But how can this be done?
Repurposing the content!
Take a blog post and then repurpose it into a slide presentation and upload it to slideshare.net.
Turn your content into a PDF document and upload to docshare.
Be sure to make use of social bookmarking sites like stubleupon, reddit, dig, delicious etc.
Repurpose your content into an infograph and post it on your social media profiles (especially pintrest).  QuickSprout has a great article on some of the special things you can do with infographs to make them go viral.
You could even consider adding audio to your article and turning it into a podcast or perhaps adding the audio to the slideshow you created for slideshare.net and then you could upload it to youtube!
There are SO many options for repurposing one piece of content, so don't miss out on these opportunities.  And remember that 20% of your effort should come from creating the content, and 90% of your effort should be in distribution and marketing of that content.
Also, you should consider looking into the services that Carter offers via http://mcarterjohnson.com as he is a wizard when it comes to all things SEO.  He can help to automate ALL of the content repurposing steps for you with his services so you can free up 80% of your time that would otherwise be spent on repurposing.
To Sum up
So in the end, it always comes back to creating amazing content that people will naturally love and want to share.
The head of search at Google made a statement that went something like this:
If people would put as much effort into creating great content as they do into gaming the system.  They wouldn't need to use all these tricks to make it to the top of Google.
So remember that trying to game the system may pay off in the short run, but in the end, might just hurt more than they help.  Here's a list of 5 such techniques that used to work wonders but will now get you spanked by the big boys.
So just don't try to game the system.  Put all your efforts into making a difference in the world and you'll do just fine.