Inspiration for us Coders
Welcome to my monthly income report on the Coders' Startup.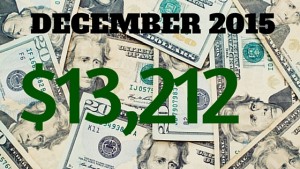 I've decided to create these monthly income reports for two main reasons:
To serve as a proof of concept and an inspiration to aspiring software entrepreneurs
To help hold myself accountable for the continued growth of my business
Creating and growing an online business has been one of the hardest things I've ever done in my life. But along the way I have realized that there are things that I've done that contributed to a disproportionate amount of success.
In other words, not all results are created equally. I could spend years creating a product hoping that someone will buy it, or I could spend 1 hour talking to prospective customers about what they actually need… At the end of day, which of the two tasks do YOU think will make more of a difference?
I know from experience, it's not the blind product creation.
So I'm treating the time I spend on these income reports as a valuable insight into the current health of my business, as well as a spring board for planting the seeds of future growth.
And hey, if I just happen to inspire the heck out of a few of you, then job well done right?
What's Shakin' in December 2015?
The main theme of December was goal setting / planning, reinvesting profits and some holiday time… And continuing to reap the benefits of the Cyber Monday sale.
I'll start with the Cyber Monday sale. Since my sale ended on December 1st, it meant that a lot of the profits from the sale actually showed up in my books for December. This meant that I had another great month of sales for December 2015: woo hoo! But that's old new now, I talked about the details of my Cyber Monday sale in last month's income report.
Let's get to the new stuff.
Goal Setting and Planning
So the month of December was mostly about thinking ahead and planning for 2016. In the past 3 years that my business has been running, I've essentially increased revenues by about 300% every single year. This has been a great run thus far, but I don't know how much longer I can continue to increase my revenues at this rate.
So I had to sit down and think long and hard about what I would want 2016 to look like. In doing so, it forced me to reflect on the past and what my previous goals were.
Essentially, the biggest "milestone" goal that I've had in my business has been to replace my previous income when I was a full-time software engineer. And though I didn't actually make it all the way to what I used to make as a coder, I likely could have if I wanted to, but I felt like the money was better suited to be re-invested back into my company (instead of being pulled out as salary).
So I've more or less accomplished my goal of replacing my old salary! An amazing milestone for me on a personal and professional level.
So this begged the question: "What's next?"
The logical next step (in my mind) was to replace my wife's salary as well. The thought of her not having to work if she didn't want to was very appealing to both of us, plus it would mean that she could probably help me out in my business as well. On top on that, this goal actually lined up pretty well with my existing business growth as well, as it will mean doubling my current revenues.
So with that in mind, I decided to raise the bar and set my 2016 revenue goal to double my business. That equates to making around $200,000 this year. Boom, goal set.
But, that doesn't cover my "stretch" goal. I decided to set my stretch goal as being in line with my current business growth of 300% per year. This means that my stretch goal for 2016 will be $300,000. Just saying that out loud scares the heck out of me, as I don't really know how I could achieve that level of revenue… but I guess that means it's a good stretch goal right?
Now above and beyond just a revenue goal in my business, I've also set out to do better in terms of my physical health in 2016. I gave myself a 5/10 in the health category for 2015, and that's just not good enough. So I've started this year off with a bang by getting out to the gym again and starting things off with a personal trainer. It'll be expensive, but I'm of the mindset that it'll give me a promising start.
This will hopefully give me more energy during the days and allow me to better focus while I am working on my business. As we all know, staying in shape has ancillary benefits like these, so I'm going to make it a priority for 2016!
Keep in mind that health, wealth and relationships are usually the three categories one should focus on doing well in to live a happy life. What score would you give yourself in each of these categories for 2015? Where do you need to see improvements?
Reinvesting in the Business
So as 2015 came to a close, it was also my company's year end. I was showing about $10,000 in profit, so I decided to reinvest in my business instead of showing a profit on the books.
The reason for this decision is that profit is taxable but expenses are not. So if I showed $10,000 in profit at my year end, then I would have to pay the government around $1,500 in taxes. Or, I could reinvest that money back into my business and show very little profit.
This was a no-brainer for me.
So I identified all of the monthly subscription services that I use in my business that I absolutely love, and I enrolled in annual billing for all of them. This saved me money as most businesses offer a discount for annual billing… this was a huge win. I also invested in a new product (called Ever Webinar) the will allow me to create evergreen webinars and sales funnels. I've heard a lot of good things about this kind of marketing, so I'm eager to see the results.
So to summarize, December was a month of reflection, planning and investment in the future.
I have my plan, now it's time to start executing on it!
More on that, in next month's income report.
The Numbers
Alright,
Now let's get to the good stuff. The breakdown of my revenue for the month of December 2015.
I find it very useful as an outsider looking into someone else's business to see where the money comes from, and where the money goes. Sometimes you can identify patterns in other people's businesses that can transfer over into your own. Whether that be from income, or the way the profits are re-invested.
So I hope that you'll be able to gain some new insights into your business based on the December 2015 figures below:
Revenue
Expenses
| | |
| --- | --- |
| Rent Expense | $1,000.00 |
| Computer – Software | $3,781.94 |
| Computer – Internet | $96.04 |
| Computer – Hosting | $211.13 |
| Telephone – Wireless | $215.20 |
| Bank Service Charges | $47.36 |
| Memberships & Dues | $9.99 |
| Other Fees, Charges & Subscriptions | $11.29 |
| Office Supplies | $115.35 |
| Refunds | $1,149.38 |
| Meals & Entertainment | $200.65 |
| Travel Expense | $348.74 |
| Education & Training | $35.14 |
| Affiliate Commission | $354.30 |
| Transaction Processing Fees | $82.19 |
| Payroll – Employer's Share of Benefits | $331.59 |
| Payroll – Salary & Wages | $1,339.81 |
| Shareholder Salary | $9,219.99 |
| CPP (Canadian Pension Plan) Expense | $2,479.95 |
| Advertising & Promotion | $509.00 |
| Total Operating Expenses | $21,539.04 |
Net Profit
($8,326.87)
So although my profit for the month of December is essentially the biggest loss I've had all year, this was done on purpose so that I could reinvest into my growing business and not have to pay unnecessary taxes. These are the benefits of having an accountant ladies and gentlemen!
Perhaps we should have a whole episode (or two) on accounting? We shall see!
As always, take care and happy learning.
Trevor