To watch the video recording of this episode, click here
In this episode of the podcast, Carter and I are dig into the numbers of startups. As we both expressed during our conversation, learning math would have been much more fun had it been explained in terms of cu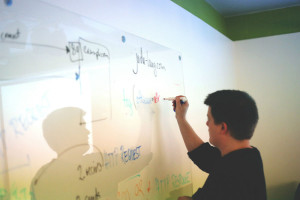 stomer lifetime value, margins after marketing, and conversion rate — all things we discuss in this episode.
Elementary school math aside, this episode is extremely important for you as an entrepreneur. Why? Because, as one of my friends so eloquently put it, getting down to your numbers means you're going pro. And that, my friends, should be your number one goal as a startup coder.
Today, I'll share with you my own numbers story to show you just how important it is to understand the value behind your business analytics. Let's get started.
My Numbers Story
When I first started my business, I was having decent sales selling a digital product. It was a series of videos teaching people how to program. As I said, sales were okay, but I was still living paycheck to paycheck. I was never able to accumulate a large cushion to invest back into my business.
My blog at the time was getting quite a bit of traffic, which I was then trying to direct towards my landing page for the digital product. Traffic was around 30 – 35,000 visitors per month. But I found myself asking, should I be doing better? I honestly wasn't sure. I had no baseline of knowledge for numbers in my niche.
At the time, I didn't really know my numbers in terms of conversion rate, either. I believe I was on the phone with my dad one evening when he asked me specifically about my conversation rate. So I said okay, hold on, and I took 30 minutes to go crunch the numbers.
What I learned was eye-opening.
I looked at analytics of my sales page and realized that the traffic there was drastically lower than the numbers on my blog. We're talking 1,000 people vs. 30,000 people.
Then, I looked at conversion rate. Out of 1,000 visitors, my conversion rate from visitor to an email lead was around 1 or 2%. Needless to say, it wasn't good. In contrast, today I'm achieving a 20 to 25% conversion rate. The story was even worse when I inspected the conversion from visitor to sale… that number hovered at around 0.25%.
A 0.25% conversion rate would mean that I would need to drive around 400 visitors to my sales page in order to make one sale. Considering I brought in around 1,000 per month to my sales page, that meant I'd make about 2-3 sales per month.
Now 2-3 sales per month would be great if I were selling a $10,000 product, but my product ranged from $5/month to $50/month. Not Good.
So, what am I doing differently now?
On my old page I was trying to do two things at once. I was asking visitors to sign up for my email list and also buy my product outright. When you try to do two things at once, you end up creating a very inefficient sales funnel. I asked myself, what is the one goal of this webpage? And I decided that the purpose of the page was not to sell, but to function as lead generation. In other words, its number one and only goals was to g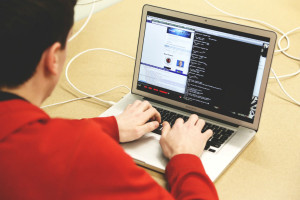 et email sign-ups.
The reason why I decided to make this my goal was that I kept on hearing about the power of the sales funnel and how important it was to grow your email list.
I had a misconception about this concept though. I thought that the strength was just in the overall numbers of subscribers, but that's not the entire picture. Today I have over 10,000 people on my email list, but the power isn't in just having them sitting on my list, it's in the automation of the sales funnel. Each one of those 10,000 people are taken on a journey through what my product is, why it's great and then asked to buy my product.
If I hadn't introduced this sales funnel auto responder to my list, I would have to manually send out emails every time new people joined my list, and that type of selling is tough because you never know what you're going to get… you could fire out an email and it could be a huge hit, or it could flop. The beauty of an auto-responder is that you can tweak it and slowly see what the results of each tweak are… it's MUCH safer.
Okay, now back to my previous story about how I redesigned my sales page that was trying to do more than one thing at the same time…
Before I redesigned this sales page, maybe 1 or 2 people signed up to my email list per day. When I redesigned it to solely focus on capturing leads, I began to acquire about 30 sign-ups per day, which equated to about 210 per week. What's really intriguing is that it has managed to stay at the level and I've consistently grown my email list since I made those changes.
The Bigger Picture 
Hopefully now, from my example, you can see the importance of understanding your numbers. It propelled my business into much more success in terms of sales and profits, and it can do the same for you.
But now maybe you find yourself asking — where do I even begin?
That's where KPI's, or Key Performance Indicators, come in. What's interesting about KPI's is that they are different for everyone. Depending on your business model and sales funnel, the metrics you measure for success might be different than someone else's. You could measure traffic, followers, conversion rate — really, the options are endless.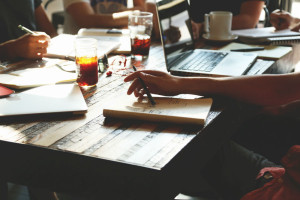 For me, I know that measuring my email sign-ups is my most important KPI. It correlates directly with the way I've set up my sales funnel (which you can learn more about in last week's episode). I know that the more emails I have coming in through the front end, the more money coming out the back end — it's really that simple.
To bring this concept to life, Carter brought up a unique example with Jeff Bezos, the founder of Amazon. When Amazon released the Kindle, they actually lost money on every sale. This sounds crazy! But they knew the numbers of their market in such exact measurements, they had calculated a lead-loss methodology for sales. By losing money upfront on Kindles, they knew they would more than make up for it in other products (book downloads, for example), and acquiring the dominant space in that market share.
The overall takeaway here, is to know the value of your numbers. For example, what does one email sign up bring in value to your business? For me, it means $10. So I know that I can spend up to $10 on acquiring that email address, and still come out ahead.
Start small. Choose one KPI and start tracking it regularly. Once you have it mastered, start tracking another. Soon enough, you'll have a whole snapshot of your business and measurable indicators of what's working, what can be improved, and what you can tweak and test. That's where things get really fun.
Analytics Dashboards (referenced in podcast):
Other Links: