Inspiration for us Coders
Welcome to my monthly income report on the Coders' Startup.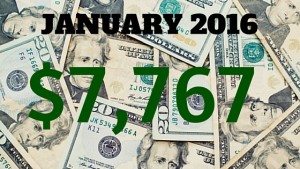 I've decided to create these monthly income reports for two main reasons:
To serve as a proof of concept and an inspiration to aspiring software entrepreneurs
To help hold myself accountable for the continued growth of my business
Creating and growing an online business has been one of the hardest things I've ever done in my life. But along the way I have realized that there are things that I've done that contributed to a disproportionate amount of success.
In other words, not all results are created equally. I could spend years creating a product hoping that someone will buy it, or I could spend 1 hour talking to prospective customers about what they actually need… At the end of day, which of the two tasks do YOU think will make more of a difference?
I know from experience, it's not the blind product creation.
So I'm treating the time I spend on these income reports as a valuable insight into the current health of my business, as well as a spring board for planting the seeds of future growth.
And hey, if I just happen to inspire the heck out of a few of you, then job well done right?
What's Shakin' in January 2016?
January was all about starting to execute on my main goal of (at least) doubling my business (in terms of revenue) from 2015.
The goal I've set for myself was to increase my revenues to $200,000 in 2016. Now the big question is, how the heck am I going to pull that off?
Well, first things first, just saying I need to make $200,000 this year is a bit too broad. I prefer to have the goal broken down by month, so I created a spreadsheet to plan out exactly what each month might look like.
I was in a situation where I had a good year in 2015 and I could model the 2016 numbers off of 2015's performance.
Here's what the spreadsheet looks like: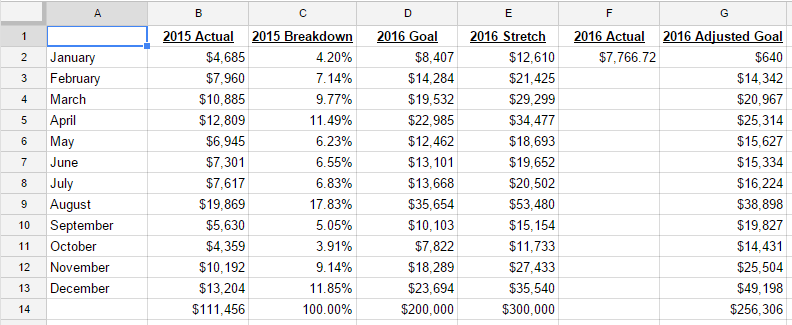 All I did was took the total revenue I made and divided the monthly sales into that total figure to give a percentage of sales by month in 2015.
So now that I had a breakdown of the overall monthly percentage of sales, I could apply that to my 2016 goal of $200,000 for the year.
I even created a column that will keep a running total of my sales and adjust my monthly goals based on if I'm ahead or behind the overall goal.
Alright, so now that I have my monthly goals, how in the heck am I going to hit each of those goals?
Well, thankfully 2015 started off reasonably slow, so I have a couple of months to start implementing my plan in 2016.
Areas of Growth For My Business
There are three main areas where I believe I need to focus on to make my business successful in 2016.
These three areas are quite broad, so I'm sure they would apply to your business as well
Content Marketing
I've built my entire business on the back of content marketing, and it certainly didn't fail me in 2015. Probably 90% of the customers who have come through my doors were acquired as a part of my content marketing efforts.
"Do more of what works!" – Any Successful Entrepreneur
You've heard this over and over again from every successful entrepreneur out there. Focus on what's working and do MORE of it.
So it would be silly of me to take my foot off the gas of my content marketing machine at this point. So in 2016 I'm planning on kicking it back into gear with more Podcasts with a re-branded show called the "Coders Campus Podcast".
A huge portion of my customers tell me that they heard about me through my podcast (when it was still listed in iTunes before it was taken down due to 3rd part trademark infringement). So I'd like to get that ball rolling again with my newly rebranded podcast.
Also, I'd like to piggy back off the podcast with detailed "show notes" that will be good enough to consume without even listening to the podcast so that both the readers AND listeners will love the content.
Affiliate Marketing
This has always been the weak-point of my business, as I have no affiliate marketing strategy (with my coding business anyway).
I need to put myself out there and find some players in my market and see if they'd be willing to sell my products to their audiences on my behalf.
This is in no way difficult to do, it's just something that I need to set aside time to do. It's definitely outside my comfort zone, but that's exactly what got me to the place I'm in today.
And believe it or not, I've already started some conversations with a few people who fit the bill in this arena. So I'm looking forward to seeing where those relationships go over the next 11 months.
Paid Traffic
Scalable passive income.
How sweet it is, right?
Trouble is, it's very difficult to get there. I've tried with very minimal success in the past to launch paid traffic campaigns that give me a positive ROI.
This is likely where the lions share of my time will go in 2016 as I try to double my business. I'm placing bets on the fact that paid traffic will be my new #1 source of revenue for my business in 2016.
I hear so much about how other businesses are thriving because of how scalable paid traffic. I hear case studies about how businesses are receiving 4:1, 5:1 or even 20:1 ROI on their investments. These numbers absolutely blow me away and I'm going to be knee deep in the "doo doo" trying to figure out how to get this to work in my business.
More on that in next month's income report!
The Numbers
Alright,
Now let's get to the good stuff. The breakdown of my revenue for the month of January 2016.
I find it very useful as an outsider looking into someone else's business to see where the money comes from, and where the money goes. Sometimes you can identify patterns in other people's businesses that can transfer over into your own. Whether that be from income, or the way the profits are re-invested.
So I hope that you'll be able to gain some new insights into your business based on the January 2016 figures below:
Revenue
Expenses
| | |
| --- | --- |
| Advertising & Promotion | $295.10 |
| Bank Service Charges | $42.78 |
| Computer – Internet | $84.99 |
| Computer – Hosting | $148.19 |
| Computer – Software | $725.98 |
| Memberships & Dues | $9.99 |
| Education & Training | $1,532.84 |
| Payroll – Employer's Share of Benefits | $391.08 |
| Meals & Entertainment | $10.35 |
| PayPal Transaction Fees | $64.38 |
| Sub Contractor | $227.19 |
| Telephone – Wireless | $177.08 |
| Travel | $75.88 |
| Total Operating Expenses | $3,785.83 |
Net Profit
$3,980.89