Inspiration for Coders
Welcome to my monthly income report on the Coders' Startup.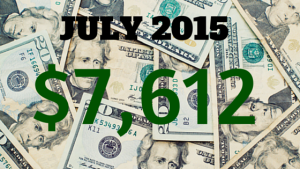 I've decided to create these monthly income reports for two main reasons:
To serve as a proof of concept and an inspiration to aspiring software entrepreneurs
To help hold myself accountable for the continued growth of my business
Creating and growing an online business has been one of the hardest things I've ever done in my life. But along the way I have realized that there are things that I've done that contributed to a disproportionate amount of success.
In other words, not all results are created equally. I could spend 3 hours posting links to articles on Facebook, or I could spend 3 hours setting goals and reflecting on past failures… At the end of those 3 hours, which of the two tasks do YOU think will make more of a difference in 3 months time?
Hint: It's NOT the Facebook posts!
So I'm treating the time I spend on these income reports as a valuable insight into the current health of my business, as well as a spring board for planting the seeds of future growth.
And hey, if I just happen to inspire the heck out of a few of you, then job well done right?
What's Shakin' in July
I have updates on two main topics for the month of July:
Content Creation Blitz
The New Sales Funnel
Content Creation Blitz
As per June's income report I started a routine based on the 66 day experiment podcast that was supposed to help me slay my procrastination problem.
So? How is it going?
Well, so far I've created about 24 new blog articles in the last 30 days. No half bad right? Though my goal was to create one new blog article per day, I knew that was a bit of a lofty goal. The days that I missed were spent doing other business related tasks that had direct impact to my bottom line.
Just to clarify things, these new blog articles are posted on my programming blog, not on this one. As most of my revenue comes from my information products centered around programming, it made the most sense to do a content creation blitz for that business and not this one. Also, for the Coders' Startup, I've been successfully publishing a new episode every week, so I figured all was well on this front.
So, all in all I'd say that this new habit forming system has been going very well. I still have another 36 days to go, but I don't have any plans on stopping. In fact, I have plans on doing even MORE productive work.
You see, I've been stalling on creating new podcast episodes for my programming podcast because it's such a pain to create the show notes for each episode. But the beauty of this new content creation system is that I can use each of those articles as the show notes for my podcast episodes.
So this means that I've essentially created 24 weeks worth of show notes and all I need to do is record the episodes. Since it's a weekly show, this means that I have almost 6 months worth of show notes created ahead of time. Good lord! That's truly amazing to me.
I'm hoping to start recording new episodes of my programming podcast next week, so I'll be sure to update you all on that progress next month.
The New Sales Funnel
Hot off the press / database…
I just ran the numbers through one of my favorite new websites: the A/B Test Calculator (more on the website in a moment). The results are in and it's sitting at about 93% confidence that my new sales funnel will outperform my old sales funnel by a landslide!
These results are just the preliminary results as there just hasn't been enough days that have gone by to give me the full picture. But what I CAN tell you is that when it comes to selling people on my tripwire product, this new sales funnel is beating the old one by about 200% with 93% confidence.
As we've talked about before, you should always shoot for a 95% confidence or greater, plus have the test running for a couple of weeks at a minimum. As it stands now, I've only been running this test for a week, so it's still too early to call it for sure. But these initial results are indeed positive due to the huge variance between the two funnels. I have high hopes that this will make a big difference in my revenue figures before we close out 2015.
Now, getting back to that A/B Test Calculator website I mentioned…
I love this website! It allows you to input your numbers in an A/B test scenario and then see if the results are significant or not. You can choose what "significant" means by changing the confidence level to one of 90%, 95% or 99%. As I said before, testing to 95% confidence or above is generally considered to be significant.
So when I use this website, I typically leave everything set to their defaults except for the "good stuff", which is the actual data for the test. You're shown four input boxes "Visitors A, Conversions A, Visitors B, Conversions B". So all you need to input is the number of visitors / people that are involved in each version of your test as well as the relevant conversions.
As it stands right now here are the numbers that I put into my test cases:
Visitors A = 281
Conversions A = 2
Visitors B = 325
Conversions B = 7
Here's what the resulting page looks like: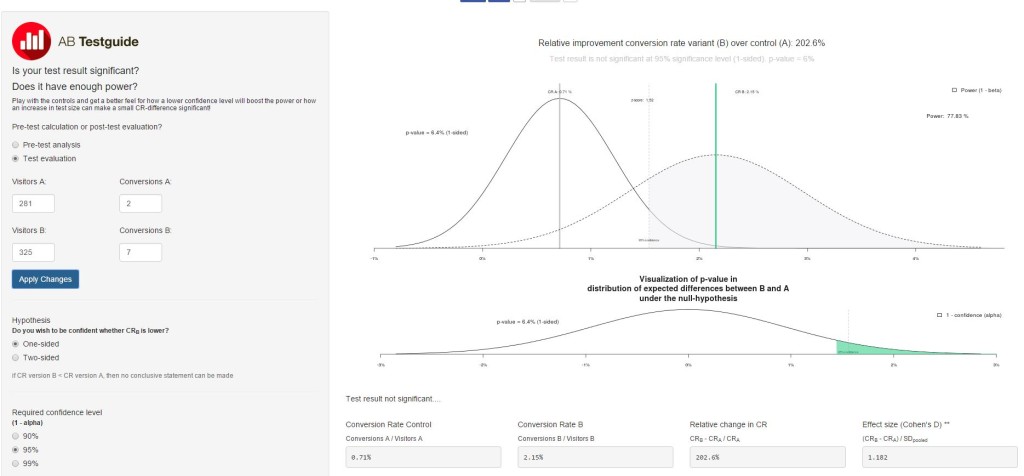 (Click to Enlarge)
I love this website for the single reason that you can test whatever you want! It's completely generic, so you can put in whatever data you like to see if one results TRULY is better than another without guessing.
Science!
or should I say, Math!
I probably would have paid more attention in my university Stats class had I known it had a practical real world application in business.
The Numbers
Alright,
Now let's get to the good stuff. The breakdown of my revenue for the month of July 2015.
I find it very useful as an outsider looking into someone else's business to see where the money comes from, and where the money goes. Sometimes you can identify patterns in other people's businesses that can transfer over into your own. Whether that be from income, or the way the profits are re-invested.
So I hope that you'll be able to gain some new insights into your business based on the July 2015 figures below:
Revenue
Expenses
| | |
| --- | --- |
| Computer – Software | $521.83 |
| Computer – Internet | $70.00 |
| Computer – Hosting | $232.10 |
| Telephone – Wireless | $233.91 |
| Referral Building | $66.84 |
| Bank Service Charges | $237.40 |
| Refunds | $55.09 |
| Education & Training | $19.40 |
| Affiliate Commission | $52.18 |
| Transaction Processing Fees | $65.81 |
| Payroll – Employer's Share of Benefits | $319.60 |
| Payroll – Salary & Wages | $2,075.92 |
| Shareholder Salary | $4,018.95 |
| Advertising & Promotion | $1,323.36 |
| Total Operating Expenses | $9,292.39 |
Net Profit
($1,680.74)
Ouch!
It's never fun to be in the red, but the main reason why I went into the red is because of investments in my business. The biggest expenses (besides my personal income) has been payroll to the people I hire on contract and my advertising budget.
My own personal salary is truly an expense, as it won't have any ROI to my business, but the payroll and advertising should have a wonderful ROI if all goes well.
As the saying goes: "You gotta spend money to make money" and that definitely holds true in the month of July.
Thankfully I have cash in the bank that will cover this loss, so my business won't be in any financial troubles, phew!
Alright, I look forward to seeing you again in next month's income report and as always if you have any questions, please post them in the comments section below! We love to hear from our readers/listeners.
All the best,
Trevor