Inspiration for us Coders
Welcome to my monthly income report on the Coders' Startup.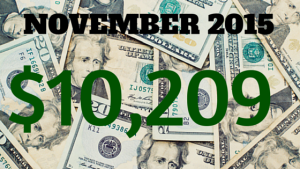 I've decided to create these monthly income reports for two main reasons:
To serve as a proof of concept and an inspiration to aspiring software entrepreneurs
To help hold myself accountable for the continued growth of my business
Creating and growing an online business has been one of the hardest things I've ever done in my life. But along the way I have realized that there are things that I've done that contributed to a disproportionate amount of success.
In other words, not all results are created equally. I could spend years creating a product hoping that someone will buy it, or I could spend 1 hour talking to prospective customers about what they actually need… At the end of day, which of the two tasks do YOU think will make more of a difference?
I know from experience, it's not the blind product creation.
So I'm treating the time I spend on these income reports as a valuable insight into the current health of my business, as well as a spring board for planting the seeds of future growth.
And hey, if I just happen to inspire the heck out of a few of you, then job well done right?
What's Shakin' in November 2015?
As promised, I'm delivering this month's income report in a much more timely manner.
A lot happened in November, but the bulk of my success this month came from two main areas of focus.
Webinars
Cyber Monday Sale
I'll start with the first item in the list.
Running a Successful Webinar
So as I mentioned in last month's income report I launched a new product offering that I branded as Coders Campus.
This new product offering is a package that contains all of my courses that I have created over the last three years (as well as any new courses that I build in the future). It's sold as a monthly subscription with a yearly upsell.
Almost half of the revenue that I generated in November came from webinar sales (which was fantastic to see).
There were two main reasons for the success I had with sales, the first was the fact that I was launching a new product offering at a ticket price that didn't make people shake in their boots. It's a lot easier to handle a $45/month subscription vs a $497 single payment.
The second reason for the success was the upsell that I offered. As people committed themselves to purchasing, they were in the mindset of spending money on a recurring monthly basis. But as soon as they hit the "buy button" and spent their money on that first month, I presented them with an upsell screen that prominently said "Want me to give you two months for free?".
When someone is in the mindset of spending money on a monthly basis, telling them that they can get two months for free is almost a no-brainer. The upsell is that I ask them to commit to yearly billing.
The psychology of this approach is different than just showing a potential customer a "yearly price" on the pricing page. When a customer sees the yearly price (even broken down by month) they still see it as spending money every month (even when the cost is reduced).
So if you "hide" the yearly billing option from your potential customers and pitch it to them after they've given you their credit card or paypal information, it's a lot easier to sell them on the yearly option.
I was seeing conversion rates of 20% for my upsell, and that's on a page that I put together in about 5 minutes with no video (just text). So clearly there's tons of room for improvement on my upsell page.
Also, it's important to note that I was receiving a conversion rate of about 15-20% for my webinar funnel. So that means out of every single person that signed up to the webinar, I converted about 15-20% of them to a sale (and then converted 20% of those people on the upsell).
This is hands down the best way I've found to sell my products. Sure it takes more work and isn't passive, but it's night and day in terms of sales conversion rates.
I'll be running an episode (perhaps next week) that will go into detail on how I ran my actual webinars.
Cyber Monday Sale
It seems like every time I run a sale, the amount of revenue that I bring in is staggering.
I know there are a lot of opinions out there on whether or not you should run discount type sales for your products, but I have seen first hand what kind of cash infusion they send into your business… twice.
If you remember, I ran a flash sale back in August to help pay for my wedding and it was a huge success. So I just did a copy/paste on that funnel and tweaked the wording for the 6 emails that were scheduled to go out over a 4 day period. I also recorded a different sales video to talk about Cyber Monday and used that on my pre-existing "flash sale" leadpage.
All things considered, I think it was around 4 or 6 hours of real work to set everything up, and I ended up generating just over $10,000 worth of revenue. That's about $1,600 per hour for those of you who are counting. Unreal.
Now, I send this Cyber Monday sale to all the new people that had joined my list since my last flash sale in August, and that accounted for around 7,000 people. I almost didn't send the Cyber Monday sales emails to the rest of my audience for fear of them being angry that I ran two sales in 3 months… but I'm glad I didn't let the fear get to me.
In the end, I sent out the series of 6 emails to around 23,000 email addresses. In the end, about 30% of my sales came from people who I'd previously pitched a sale to 3 months ago.
So that goes to show you that just because someone says "No" to your product today, doesn't mean they'll say "No" again in the future.
Now having said that, I don't think I plan on running another sale in 3 months. It's tempting, but I wouldn't feel right blasting my list every 3 months with sales.
One possibility would be to only run these sales to new leads that hadn't previously seen your sales. Considering that 70% of the buyers from this sale came from new leads, I think that would be a great strategy moving forward.
But the same rules always apply to asking your list to buy your stuff, you need to provide a disproportionate amount of value before you can ask for the sale. Jab, Jab, Jab, Right Hook
.
The Numbers
Alright,
Now let's get to the good stuff. The breakdown of my revenue for the month of November 2015.
I find it very useful as an outsider looking into someone else's business to see where the money comes from, and where the money goes. Sometimes you can identify patterns in other people's businesses that can transfer over into your own. Whether that be from income, or the way the profits are re-invested.
So I hope that you'll be able to gain some new insights into your business based on the November 2015 figures below:
Revenue
Expenses
| | |
| --- | --- |
| Computer – Hardware | $182.98 |
| Computer – Software | $584.52 |
| Computer – Internet | $163.22 |
| Computer – Hosting | $492.49 |
| Telephone – Wireless | $141.66 |
| Bank Service Charges | $37.48 |
| Other Fees, Charges & Subscriptions | $21.61 |
| Office Supplies | $33.89 |
| Refunds | $432.79 |
| Transaction Processing Fees | $65.95 |
| Payroll – Employer's Share of Benefits | $331.59 |
| Payroll – Salary & Wages | $629.18 |
| Shareholder Salary | $4,220.00 |
| Advertising & Promotion | $6.63 |
| Total Operating Expenses | $7,343.99 |
Net Profit
$2,865.07
As you can see, it was a great month for both revenue and profits. I was able to pay myself a decent salary and my company is in the black for the month.
All in all, I'm very pleased with how the month has gone, and I also have some exciting news to share.
As of December 1st, my company has officially made over $100,000 in revenue for the 2015 calendar year.
This means that I have achieved the goal I set out to hit at the start of this year. My goal was to be able to say that I run a six-figure business, and I have crossed the finish line with a month left. And by the looks of how things are shaping up, I think December will be a decent month for sales as well.
I couldn't be more pleased and I couldn't be more proud of the work that has gone into achieving this milestone goal. To think that just three years ago, I had NO clue how to run a successful online business. No skills in marketing or sales, no products to offer, completely green. And in just three years, here we are.
I hope that gives you hope that you can do it too.