Inspiration for us Coders
Welcome to my monthly income report on the Coders' Startup.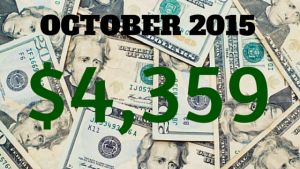 I've decided to create these monthly income reports for two main reasons:
To serve as a proof of concept and an inspiration to aspiring software entrepreneurs
To help hold myself accountable for the continued growth of my business
Creating and growing an online business has been one of the hardest things I've ever done in my life. But along the way I have realized that there are things that I've done that contributed to a disproportionate amount of success.
In other words, not all results are created equally. I could spend years creating a product hoping that someone will buy it, or I could spend 1 hour talking to prospective customers about what they actually need… At the end of day, which of the two tasks do YOU think will make more of a difference?
I know from experience, it's not the blind product creation.
So I'm treating the time I spend on these income reports as a valuable insight into the current health of my business, as well as a spring board for planting the seeds of future growth.
And hey, if I just happen to inspire the heck out of a few of you, then job well done right?
What's Shakin' in October 2015?
RE: Drop in sales last month.
Well, I'm not happy to report that my sales haven't bounced back like I had hoped.
As you can see, my October sales are lower than my September sales.
Panic mode!
So I took my own advice from last month and I changed my email sequence to re-introduce the scarcity. But here's specifically what I did:
I added scarcity to my $27 trip-wire offer (9 Videos on Core Java)
For the people who purchased the trip-wire offer, I sent them to an email sequence with scarcity to buy the core product
Anyone who didn't buy the trip-wire offer fell off the end of my email sequence and wouldn't have any other automated follow ups
Do you see the issue here?
It didn't come as a surprise to me that my sales just weren't there.
Overall, the trip-wire offer did well. About 2-3% of the people I pitched it to actually purchased. And from there, around 19% of the people purchased the core offer.
When you step back and look at those numbers, you'd think that this was a huge success… but here's what the numbers looks like…
I get around 50 people signing up to my email list every day (I could have twice that, but I now filter out unqualified leads). So that means on average I get about 1,500 new email leads a month.
Of those 1,500 leads, let's assume 3% of them convert to sales for the trip-wire offer.
That means I'd get around 45 people purchasing the trip-wire offer ($1,215 in revenue)
And from those 45 people, another 8 or so will purchase the core offer (about $2,000 in revenue)
So when you add up that revenue, it leads to about $3,215 in new sales for the month… it's not bad, but it's nowhere near it's actual potential.
New Idea / Approach
So, while I was out on a nice afternoon walk with my dog (Lily) and my wife (Christina), an idea suddenly rushed into my head.
Now, as an entrepreneur, these kinds of moments are a dime a dozen. Ideas are always flying through my head, and I've learned to just let them fly on by and not take action on them.
The reason why I ignore the vast majority of ideas that pop into my head is because I would become completely derailed if I were to take action on every single one of these ideas. I've spoken about this before and I think it's a great rule to follow, John Lee Dumas of Entrepreneur on Fire talks about F.O.C.U.S: follow one path until success.
Now, on this brisk October afternoon, when this idea came to me, I couldn't help but listen to it. The reason why I listened to it was because it was in alignment with my current path. It was an idea around how to better serve my current audience of programmers who are learning the Java programming language. And this idea could potentially get my revenue figures back to where I want them to be.
The idea was to put on a series of webinars that teach my students how to create real world Java web applications using the latest and greatest technologies.
You see, after I ran the survey that asked my audience what their biggest struggle was right now with respect to programming, a lot of them said the same thing. They were struggling with "putting it all together". They have the knowledge, but they don't know how to apply it. And they also said they wanted to see real-world examples… no more "Hello world" garbage.
So, what better way to give them what they want, then to put on a free webinar teaching them exactly those things? Give them what they want, for free!? What a novel idea.
So the logistics of this new direction are as follows:
Every week, send a webinar registration link to my whole email list
Get as many people to sign up as possible for one of two webinars (one on Tuesday and another on Thursday)
On the free webinars, teach them what they want to know from a high level (don't go too deep into details)
At the end of the webinar, ask them to purchase a membership to a new product offering that will "fill in the gaps"
So basically, the approach here isn't anything new or revolutionary. I reach out to my entire list and ask them if they'd be interested in learning something new / cool for free.
I deliver on my promise and show them some new / cool stuff with respect to Java web programming.
They're excited to learn new things and they feel gratitude towards me for taking the time to teach them.
A percentage of those people will return that gratitude in the form of purchasing a subscription to my new product offering.
What's This New Product?
Well, this whole craziness with my huge drop in sales got me thinking.
Maybe a "one-time" purchase for a lifetime membership thing isn't that great after all. I've seen first hand what happens when this "system" breaks down. My revenue plummets.
My idea was to try and see how a MRR (monthly recurring revenue) model works once again.
Now, I've complained about the MRR model before. I used to sell my course under the MRR model and I hated it. People would only stay signed up for about 3 months, and therefore my revenues would be very small. Also, I was constantly barraged with emails from people wanting to cancel their memberships (not so great for the self-esteem).
Well, the solution to those problems are:
Try to deliver more value on a recurring basis so people stick around for more than 3 months
Outsource the customer service part of the equation so I don't have to deal with cancellation emails
Okay, so wait a minute… These weekly webinars I'm doing can be the answer to part 1 above. The weekly webinars can be the content that I deliver on a recurring basis to keep them coming back: month after month.
If I implement the typical model of offering webinars with scarcity, then that means that my audience will only have a certain amount of time to watch the webinar replay (about 72 hours). And if they don't watch the replay (or attend the webinar), then that awesome content is gone forever… unless… they sign up for this new MRR product!
Hmmm… very interesting… what else can I do to sweeten the deal for them?
How about this… I have 4 or 5 different courses that I now offer (all for a one-off price), what if I give them access to ALL of my courses with this new MRR membership? Ah-ha! That's just like how Digital Marketer sells their products. They offer a one-off price for their products OR a monthly membership to their "lab" that gives you access to everything so long as you're paying the subscription fee.
It's working well for them, so maybe it'll work for me too!
Time to get to work.
I'm planning on running these webinars starting in November, so I'll let you know in next month's update how things went. I'm sure you're just dying to find out!
The Numbers
Alright,
Now let's get to the good stuff. The breakdown of my revenue for the month of October 2015.
I find it very useful as an outsider looking into someone else's business to see where the money comes from, and where the money goes. Sometimes you can identify patterns in other people's businesses that can transfer over into your own. Whether that be from income, or the way the profits are re-invested.
So I hope that you'll be able to gain some new insights into your business based on the October 2015 figures below:
Revenue
Expenses
| | |
| --- | --- |
| Computer – Software | $395.71 |
| Computer – Internet | $99.80 |
| Computer – Hosting | $342.66 |
| Telephone – Wireless | $80.00 |
| Bank Service Charges | $41.04 |
| Memberships & Dues | $9.99 |
| Office Supplies | $47.30 |
| Refunds | $35.53 |
| Transaction Processing Fees | $54.61 |
| Payroll – Employer's Share of Benefits | $331.59 |
| Payroll – Salary & Wages | $504.00 |
| Advertising & Promotion | $159.71 |
| Total Operating Expenses | $2,101.94 |
Net Profit
$2,256.86
So, it was nice to see that I actually turned a profit this month even though I had a bad month in terms of revenue.
The big reason why I still turned a profit was because I didn't end up having to pay myself any sort of salary. Thankfully Christina had a 3 pay month in October, so that money meant that I didn't need to draw a salary.
Overall, I'm still disappointed with how October went, but I'm hopeful that I can turn things around with this new product offering and webinar sales approach.
Once again, you'll just have to wait and see how it goes in next month's income report!