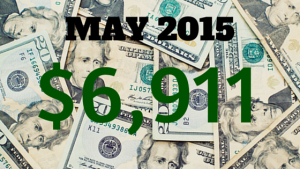 Inspiration for Coders
Welcome to my second monthly income report on the Coders' Startup.
I've decided to create this monthly income reports for two main reasons:
To serve as a proof of concept and an inspiration to aspiring software entrepreneurs
To help me hold myself accountable for the growth of my business
Creating and growing an online business has been one of the hardest things I've ever done in my life. But along the way I've realized that there are things that I have done that have contributed to a disproportionate amount of success.
In other words, not all results are created equally. I could spend 3 hours posting links to articles on Facebook, or I could spend 3 hours setting goals and reflecting on past failures… At the end of those 3 hours, which of the two tasks do YOU think will make more of a difference in 3 months time?
Hint: It's NOT the Facebook posts!
So I'm treating the time spent on these income reports as a very valuable insight into the current health of my business, as well as a spring board for planting the seeds of future growth.
And hey, if I just happen to inspire the heck out of a few of you, then job well done right?
What's Shakin' in May
The one thing that made the biggest impact in my business (good or bad) in the month of May was a biggie.
I dropped the ball and made a poor decision that essentially led to a 50% drop in sales. Ouch!
But that's why I'm doing these income report, so that I can do a bit of a "review and retrospective" of my past actions and see what went well and what didn't. If you're at all familiar with the "Agile Software Development Methodology" then you know all about the review and retrospective. It's a meeting I would have with my team when I worked as a programmer full-time where we would look at the past two weeks of work and critique our performance.
I absolutely loved those meetings, even when we felt like we just didn't have the time to DO them (kind of like I'm feeling right now). I didn't want to spend the time to sit down and write about my big drop in sales and my big failure, but then I realized that this is really just a great way to learn from a failure and to make sure that I (and you) don't ever make that same mistake again.
What went wrong?
So at this point you may be wondering what the heck I could have done that led to a 50% drop in sales.
I can boil it down to two things, one of which I had control of and the other I didn't.
It's Summer!
School's out for summer!
Most College and University students are back at home living large and feeling free from all the shackles of courses, tests, assignments, papers and homework. They're out partying with their friends and hopefully working during the days in their service based jobs.
Ah the good old days.
Anyway, my point here is that people are now outside and enjoying the nice weather while it's here. They aren't indoors browsing the internet hoping to learn new skills.
So this leads to a natural drop in the sales of almost ALL sellers of goods. The summer months are notoriously bad for this.
Therefore this is one of those things that's just outside of my control. Sure I could run huge "summer sales" and drop my prices and do that whole song and dance, but I just didn't have the will to do this. When I gain a new customer, I currently sell a "lifetime" package to them, so this means that I'll need to support them for the lifetime of my product. So selling at a hugely discounted rate would be bad for "future Trevor", and I'm just not okay with that.
All my eggs in one basket
The second thing that went wrong was a decision I had made with my auto-responder.
I had spoken to an "expert" in the field of sales funnels and auto-responders and they told me that I should have a shorter auto-responder series. The one I was running back in April (when I hit almost $13,000 in sales) lasted about 28 days. This was apparently horrendously long and this expert urged me to try a short 10 day sequence.
Fair enough right? An expert who was making tens of thousands of dollars every month had pointed out a possible mistake I was making. So naturally I should listen to them and make the change.
So I did.
Big mistake.
Now, the mistake was not in trying out a new shorter sales funnel. That was actually great advice. My mistake was diverting 100% of my new leads into the new shorter sales funnel.
A smarter Trevor would split tested this theory. Because that's what it was, a theory.
I failed to follow my own advice and didn't split test. I just jumped right into the deep end, and paid the price.
So now that I've seen the drop and I've narrowed it down to the change in my auto-responder, I've now restored my older longer email series and am actually split testing the two side by side.
The Numbers
Alright,
Now let's get to the good stuff. The breakdown of my revenue for this month.
It's very useful as an outsider looking into someone else's business to see where the money comes from, and where the money goes. Sometimes you can identify patterns in other people's businesses that can transfer over into your own. Whether that be from income, or the way the profits are re-invested.
So I hope that you'll be able to gain some new insights into your business based on the May 2015 figures below:
Revenue
Expenses
| | |
| --- | --- |
| Computer – Software | $427.59 |
| Computer – Internet | $104.00 |
| Computer – Hosting | $131.63 |
| Telephone – Wireless | $288.43 |
| Referral Building | $64.00 |
| Bank Service Charges | $184.87 |
| Memberships & Dues | $127.22 |
| Donations | $70.22 |
| Training | $542.8 |
| Transaction Processing Fees | $63.11 |
| Affiliate Commission | $346.24 |
| Payroll – Salary & Wages | $474.13 |
| Shareholder Salary | $6,500.00 |
| Advertising & Promotion | $535.09 |
| Total Operating Expenses | $9,859.33 |
Net Profit $
(2,947.98)
So as you can see I had a net loss this month, largely because of the salary that I had to personally draw from the company to cover person expenses (i.e. my upcoming wedding in August).
But besides the large salary, the other notable expenses this month were in the training and advertising categories. The training costs are coming from a purchase I made back in April when I switch to InfusionSoft from GetResponse. Unfortunately InfusionSoft forces you to pay for training to the tune of $2,000.
Now I negotiated down to about $1,200, but I'm actually in talks with them to have that whole amount credited back to my account. The reason being that I never actually used their training, I was smart enough to figure out how to use their system on my own just by going through their videos.
So in the near future, that training expense will disappear and my "Computer – Software" expenses will also temporarily decrease as I am able to apply that $1,200 credit to my InfusionSoft account.
As for the advertising expense, I don't really consider that one to be an expense, as I still have a positive ROI on all my advertising expenditure. I currently see a 3x return on any advertising dollars, which is wonderful and I will be increasing my ad spend in the future!
All right, I look forward to seeing you all again in next month's income report and as always if you have any questions, please post them in the comments section below! We love to hear from our readers/listeners.
All the best,
Trevor